What is it?
We know EuroBrussels has an increasingly growing readership and a lot of them read your Job Ads and apply for your jobs. We've already helped many of you with Pre-Selection Questions but you still get hundreds of e-mails with CVs attached when you advertise a job with us.
We have a solution to make your life a bit easier with our free Applicant Tracker.
This Applicant Tracking System (ATS) allows you to log in to your account and browse the CVs and sort them in terms of suitability. The 'traffic light' system helps you sort from unsuitable, possible, suitable to "for interview"!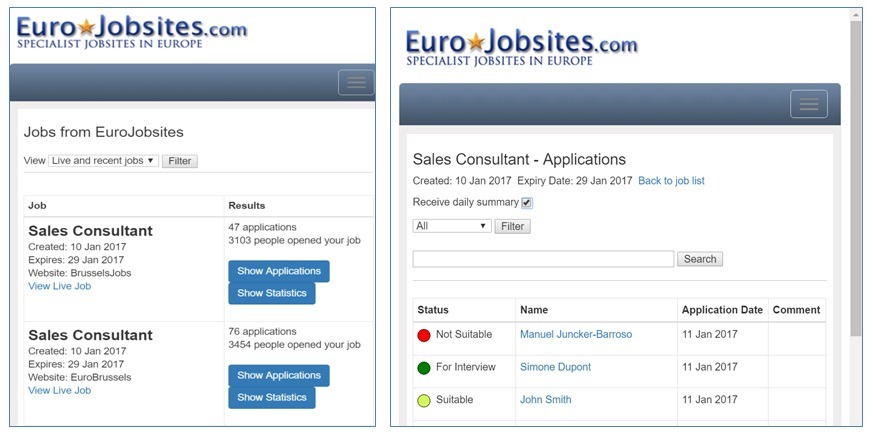 How does it work?
You simply log in and browse the CVs and Motivation Letters and leave your comments. You can share the workload between you and your team or even delegate.
You also have access to stats on how many applicants have applied. You will receive a daily e-mail update and you can log on at any time to go through a few more applications and rank them. Some of our clients have already tried the Applicant Tracker, and are very happy to have saved a lot of time with this new tool.
So next time you send us a Job Ad just ask us for the Applicant Tracker and we will set it up for you.
And the best of all? It's free with EuroBrussels' Standard or High Visibility Job Ads!
Give us a call on +32 (0)2 790 32 00 (Brussels) or on +44 (0)20 3608 8800 (London.)
You can also email one of the team at info@EuroBrussels.com to see how we could help you!